Why You'll Want to Check Out Our New Summer Body Guide
With beach season just around the corner, everyone is back in workout mode and working on his or her beach body before donning their swimsuits for the first time. We hope our new Summer Body Guide will serve you well in your preparation for summer!
Many men and women around Chicagoland are working hard to get their summer bodies back. Usually, getting back into the gym a few days a week will provide tangible results, especially when combined with a sensible diet. At St. Charles Plastic Surgery, we advocate personal health as the first step toward looking and feeling well.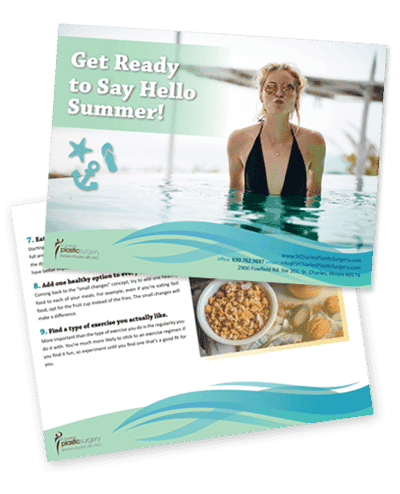 Our guide covers important topics such as:
Setting Attainable Goals

Making It Easy on Yourself to Succeed: 10 Weight Loss Hacks

Why Hydration Should Be Your #1 Beauty Strategy This Summer

Removing Stress from Your Life Can Help You Look Better

Reducing Your Sugar Intake

Which Is the Best Diet to Go On?

Diet Trends of 2017

The Classics: Time Proven Superfoods

Nutritional Services

Fitness Trends

Sun Exposure and Skin Damage

Cosmetic Procedures for a Better Summer Body
Here's an excerpt from our section on Making It Easy on Yourself to Succeed: 10 Weight Loss Hacks:
Follow these ten painless strategies to get a head start on summer and lose that stubborn winter weight before beach weather arrives on the shores of Lake Michigan.
Keep your eyes on the prize
One of the best ways to improve your odds of success is to have a consistent reminder of your goal. Whether that means putting a picture of your favorite summer vacation spot on your bathroom mirror, or keeping an old picture of you in the best shape of your life on your phone, it's a great idea to give yourself a daily reminder of what you're striving for.
Clean out your pantry
Eating well is much easier if you don't have temptation 10 feet away from you at all times. To give yourself a break, throw away all unhealthy foods and restock your pantry with plenty of healthy options you can turn to when you get hungry.
Treat yourself, but only out of the house
Occasionally, all of us slip up on our diets and eat something that is delicious and not totally healthy. The best thing you can do is accept that this will happen but contain the slip-up by limiting yourself to a one-time treat and only outside of your home. For example, eat a piece of cake at a restaurant or a bakery; don't buy a whole cake that will linger in your fridge and tempt you until you finish the entire thing.
We hope you'll check out our Summer Body Guide here.