Talking Shape
Fall 2015 Newsletter
The St. Charles Plastic Surgery Newsletter, Volume 11, Issue 3
Doc Talk: The College Years
by Bahram Ghaderi, MD, FACS
My oldest daughter, who just started her junior year of high school, is beginning her college search. It is definitely an exciting time of life. It is easy to know where I went to school by just looking at my website. With the start of the school year and some of your kids going off to college, I thought it would be a good time to share some of my college experiences that don't necessarily fit or belong in a curriculum vitae. Don't worry, these will be the ones that can be shared publicly. For the rest, I plead the fifth.
My two oldest brothers went to USC, but I always knew that I wanted to go to UCLA. Don't ask me why I wanted to go there because I don't know, other than 'just because'. I applied to many schools, but I remember how happy I was when I got my acceptance letter to UCLA (1986-1990). It was the best envelope I had ever opened, and I wanted to start right away, so I took a summer class before the year even started. I only lived about 45 minutes away, so commuting, I thought, was not so bad. My first class at UCLA was multi-variable calculus. Yeah, that is what I said. I learned two things that summer; I thought I was pretty good in math in high school and soon realized my limit was reached with that class, and I also realized commuting was not so fun in the LA traffic on the 405 freeway. So, I had to quickly look for somewhere to live since it was too late to get into the dorms. I found two upper class guys that needed a third roommate. One of them was actually on the rowing team so I thought I should try out since I wanted to be involved in the school.
In high school, I was on the varsity track and cross-country teams (my best mile was 4:43 for those who run). I had never rowed before in my life, though. Don't ask me why I tried out for rowing instead of something else. I knew track and field was not an option since UCLA had Olympic level athletes. Rowing is a tough sport. We would get up early and be in the water rowing by 5:30-6AM. In the afternoon, after classes, we would do weight lifting and physical training. Thanks to my high school experience, I passed the physical part of the tryouts, but my rowing skills did not match up to many who had rowing experience. Therefore, I did not make the team. It was, however, the start of me waking up early and loving how great it is to see the sunrise and accomplishing a lot early in the day.
I soon settled into my groove and enjoyed many parts of the campus life. My major was Economics/Business (even though I always knew I would be going to medical school). I was able to meet students from all areas, which was a great experience. My claim to fame from that era is that Troy Aikman transferred to UCLA during his junior year to be our quarterback before going to the Dallas Cowboys and ultimately to the NFL Hall of Fame. I can still remember the school paper headline when we were ranked #1 in the nation. Also, during a tour there with my daughter, I found out that the first message sent over the internet was between UCLA and Stanford in 1968. I did take a computer programming class while I was there and thought it was for the birds. Now, I finally admit that I was wrong.
Of course, my college experience would not be complete without sharing with you how I ended up at University of Michigan for medical school. Getting into medical school was competitive and I was fortunate enough to have choices for some of the top schools. I don't remember my exact criteria other than just the best school possible. My top three were Stanford, University of Chicago and University of Michigan. I interviewed at many places, but the interview at Stanford stands out in my mind the most. I was happy I had the interview. I got to the hotel and had my alarm set. I was ready to shine!
The next morning I realized I had forgotten my razor and ran out to the gas station convenient store to get one. I had more cuts on my face from that razor than I have ever had from any other; I looked like I had gotten into a fight. After the bleeding stopped, with many pieces of Kleenex stuck to may face while I got ready, I made it to the interview. While I was waiting with the group of other applicants, I started talking with the person standing next to me, and we ended up talking about what we did the year before. He said he studied Nietzsche, the German philosopher, overseas. I politely shook my head like "oh, yeah", but had never heard of the man. I actually just googled his name to get the spelling correct. I pretty much moved on because I did not want to share what I did with my friends the summer before. . .it involved "Caution" tape and a sailboat and not much philosophy.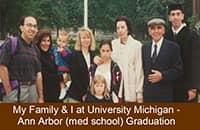 When I interviewed at the University of Michigan I felt like I was at the perfect place for me. It is a great school and Ann Arbor was a great experience. Many great medical minds were teaching my classes and serving as my mentors. My claim to fame at Michigan was that Dr. Sanjay Gupta, of CNN fame, was the intern during one of my rotations when I was a third year student. Also, one of the Google boys (Larry Page) was in undergraduate school during my time there. If only I had taken my computer programming class more seriously at UCLA! We had the "Fab Five" basketball team during my time there, and, of course, Tom Brady was quarterback at Michigan soon after I graduated (but, close enough!) There are many more years and details, but I don't want to share all my secrets at one time.
If you would like to share any of your college stories, please send to them to us!
---
Autumn & Fashion
Fashion has always been a huge part of my life ever since I was young. To this day my family will question, "Why are you so dressed up?". Fashion is a form of expression for me, and I love putting outfits together! My fashion idols are Kim Kardashian and Jennifer Lopez. I look up their different outfits on Pinterest and try to mimic them but for way less money. (I call myself the frugal queen). You don't have to spend a lot of money to look like a million bucks. When autumn comes around I like to accessorize my outfits. To the right, I am pictured in a cute autumn outfit that I spent no more than $50 total for every single item I am wearing. Following is a list of where I purchased all of the items and cost:
Black Tank Top – Forever 21 for $3.90
Black Skirt – Forever 21 for $5.80
Burgundy Cardigan – Forever 21 for $8.80
Black Tights – CVS for $6
Leopard Scarf – Discovery for $7.50
Brown Steve Madden Wedges – Marshalls for $15
Gold Bamboo Hoops – Claires for $7.50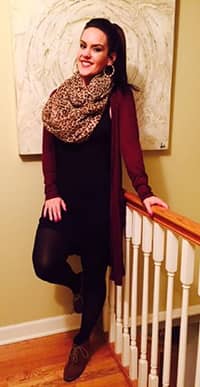 ---
Football Dictionary
When football season approaches, words that you have known your entire life take on a different meaning for the devoted football fan. We have listed a few examples below:
Tailgate
What it means: The door to the trunk of your car
What it means during Football: An event for the most dedicated fans, where drinking, grilling, and football unite — most likely done in a parking lot
Hail Mary
What it means: A Catholic Prayer
What it means during Football: Throwing the ball way high up hoping your receiver can come down with it 50+ yards down the field
Fan
What it means: A machine that oscillates and blows cool air
What it means during Football: The 12th man, the dedicated supporters that make the game possible
Fantasy
What it means: A day dream you have about something like becoming famous
What it means during Football: A game—no, a way of life—where you either win big or lose it all; and there's far more than money that's on the line
---
NEVER GIVE UP
In October, the world goes pink for breast cancer awareness. We ask that you schedule your annual mammogram appointment to promote early detection and encourage other women in your lives to do the same. Check your local hospital for convenient mammogram screenings.
---
Halloween Facts
THE TRADTION OF WEARING – MASKS on Halloween comes from the Welsh and Celtic traditions that claim the dead visit the living on October 31st. The masks are intended to keep the spirits of the dead from recognizing the living.
BOBBING FOR APPLES – started with a Roman harvest festival honoring Pamona, the goddess of fruit trees.
JACK O' LANTERNS – originated in Ireland as hollowed out turnips with candles placed in them to keep away evil spirits on the Samhain holiday.
HALLOWEEN'S ORIGIN – comes from a Celtic festival for the dead called "Samhain." Celts believed the ghosts of the dead roamed Earth on this holiday, so people would dress in costumes and leave "treats" out on their front doors to appease the roaming spirits.
PRANKS – were a tradition on Halloween in the 1930's. However the pranks got out of hand and a movement started to substitute practical jokes for kids going door to door collecting candy.
BLACK CATS – get a bad rap on Halloween because they were once believed to be witch's subordinates who protected their master's dark powers.
---
Simple Pumpkin Dip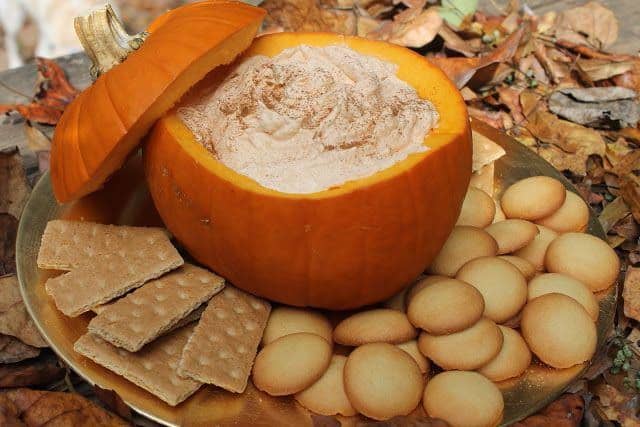 Ingredients
15oz can of pumpkin
5oz box of instant vanilla pudding (just the powder, do not make the pudding)
16oz container of cool whip
1/2 tbsp Pumpkin Pie Spice
1/2 tbsp Cinnamon
Directions
Mix pumpkin, dry pudding mix, cool whip, and pumpkin pie spice together in a bowl.
Chill for several hours before serving.
Serve the pumpkin mix in a small pumpkin! Sprinkle cinnamon and serve with fresh apple slices, vanilla wafers, or graham crackers. Enjoy!
---
Fall-ing in love with Food
Nothing says fall like limited edition pumpkin and apple flavored foods! We listed some new autumn inspired treats below.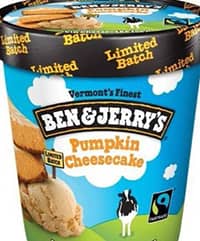 Pumpkin Spice Cereal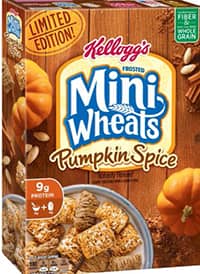 Harvest Apple Cookies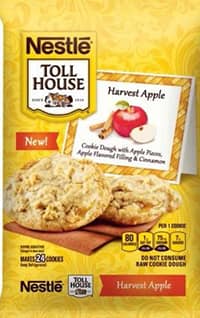 Pumpkin Pie Pop Tarts

Pecan Pie M&Ms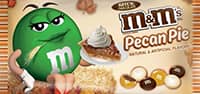 Pumpkin Spice Peeps

Pumpkin Spice Cookies

Pumpkin Spice Peanut Butter